Cotswold Way Trail Running
Run the Cotswold Way National Trail on a self-guided running holiday. We provide accommodation, luggage transfer, maps and guidebooks.
Cotswold Way Trail Running
https://contoursrun.co.uk/run-cotswold-way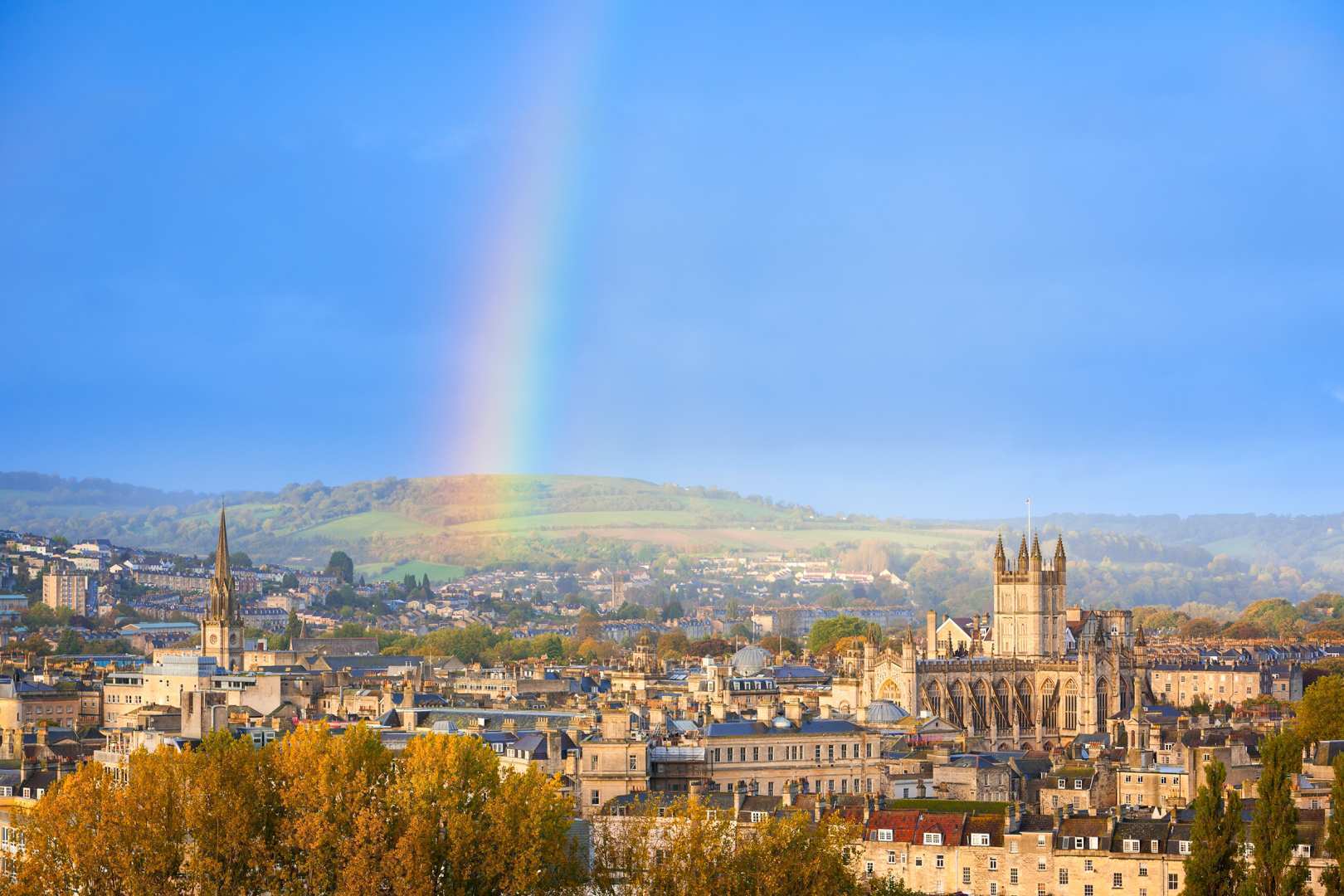 Cotswold Way Trail Running
A trail running holiday from Chipping Campdem to Bath along the Cotswold escarpment.
4 to 7 nights
102 miles
Moderate to Demanding
From £440 per person
About this route
The 103-mile (164 km) Cotswold Way National Trail traces the limestone escarpment at the western edge of the Cotswolds.
Vast views across the vales of Evesham and Berkeley and to the mountains of Wales are pleasantly interrupted with the crunching leaves of ancient beech woodlands, lush little valleys and signature Cotswold villages straight from Midsomer Murders.
The Cotswold Way is the perfect challenge for those looking to step up their trail running without going for the full wilderness experience.
This route can be run in the opposite direction upon request. Please contact us and we will be happy to assist you.
Chipping Campden/Bath
102 miles (163 km)
19th March to 30th October
Enjoying the unique characters of the quintessentially English villages of the Cotswolds.
Running along the Cotswold escarpment through pleasant, rolling countryside.
Arriving in the World Heritage City of Bath, with time to explore the incredible architecture as you celebrate your trail running achievement.
| Code | Tour | Duration | Price per person | |
| --- | --- | --- | --- | --- |
| R-COTW1 | From Chipping Campden to Bath | 3 days running | £440 | |
| R-COTW2 | From Chipping Campden to Bath | 4 days running | £540 | |
| R-COTW3 | From Chipping Campden to Bath | 5 days running | £630 | |
| R-COTW4 | From Chipping Campden to Bath | 6 days running | £720 | |
Itinerary
What's included?
Extra nights?
Tour facts
Route profile
Travel info
Weather
Start
Travel to Chipping Campden where your first night's accommodation has been booked
Day 1
Chipping Campden to Dowdeswell(T). 30 miles (48km) / 3698 ft (1127 m) ascent
Day 2
Dowdeswell(T) to Dursley(L). 33 miles (52.5km) / 4925 ft (1501 m) ascent
Day 3
Dursley(L) to Bath. 39 miles (62km) / 4567 ft (1392 m) ascent
Finish
Depart from Bath after breakfast
Your Itinerary
This itinerary lists our preferred overnight stops for this tour. Sometimes there may be a shortage of available accommodation in a preferred location, in which case we will transfer you from the trail to your accommodation and back again at no extra charge. Overnight stops marked with a (T) will always require transfers as standard.
Overnight stops marked with an (L) have very limited accommodation, and therefore more often than not will also require a transfer, particularly on bank holidays and weekends. We will use non-transfer accommodation wherever possible.
The daily mileages quoted are average trail miles only and do not include the distance from the trail to your accommodation. We do not expect you to have to travel more than a mile from the trail to your accommodation; should your accommodation be further than this, transfers will be provided as standard.
Below are the additional costs that may apply depending on your requirements. Dog-friendly tours are subject to a Daily Dog Charge, which will be listed below if applicable. Our standard prices per person are based upon two people sharing a room; if you are on your own, or are part of a group but require a room of your own, then the Solo Traveller or Single Supplements apply respectively:
A note about transfers
£50.00 per person / per night
£40.00 per person / per night
You can add rest days at any of the overnight stops:
£65.00 per person / per night
£75.00 per person / per night
£70.00 per person / per night
What's included?
4 nights' accommodation in en-suite rooms (where available) in selected B&B's, hotels, inns and guesthouses along the trail, or a short distance away via taxi provided at our expense.
Breakfast each day.
Door to door luggage transfer.
Maps with the route marked on and a guidebook or route notes describing the trail.
An information pack containing an itinerary, instructions on how to find your accommodation each night and a kit list.
Detailed travel instructions on how to get to the start of your holiday and back from the end of it.
Extra Nights & Rest Days
The Cotswold Way visits many wonderful towns and villages along the trail; if you would like to spend more time in one of these destinations and take a short break from trail running, then we would be happy to organise an extra night's stay for you at any of the stops.
Seven Springs is a lovely hamlet that offers a haven for tired runners looking for a rest day. Thought to be one of the sources of the River Thames, Seven Springs boasts some wonderful scenery and opportunities for short, relaxed walks or recovery runs around the local area. For those looking for something more lively, the bustling town of Cheltenham is just a few miles down the road and offers an impressive range of shops and restaurants, as well as a number of swimming pools, gyms and health spa facilities to help with recovery and get you ready for the next section of the trail.
The historic city of Bath, with its glorious Georgian architecture, is one of the most popular choices for an extra night or two, and is a perfect place to celebrate the completion of your holiday. Just some of its iconic buildings include the Roman Baths, the Pump Room, the Assembly Rooms that now house a Museum of Costume, the Abbey, The Circus and Lansdown Crescent, all of which are definitely worth a visit. If however you are in need of a bit of TLC following your run, Bath is renowned for its historical spa culture and offers a range of swimming pools and spa retreats, where you can enjoy a much-needed massage, relax in a sauna or bathe in the UK's only naturally warm, mineral-rich waters of Thermae Bath Spa.
You can add rest days at any of the overnight stops:
£65.00 per person / per night
£75.00 per person / per night
£70.00 per person / per night
Tour Facts
Total distance: 101.5 miles (162.5 km)
Duration: 4 nights, 3 days running
Minimum daily distance: 30 miles (48 km)
Maximum daily distance: 39 miles (62 km)
Code: R-COTW1 Grade: Demanding
Season: 19th March - 30th October
Start of holiday: Chipping Campden
End of holiday: Bath
Route Profile

Travel Information
Useful information and travel links that will assist you in your plans to travel to the start of the holiday and back from the end of it are sent to you with your full tour pack. A summary is given below:

By Air - The most convenient major city and international airports are Bristol and Birmingham.

By Rail - The nearest rail stations to Chipping Campden are either Honeybourne (about 5.5 miles away) or Moreton-in-Marsh (about 6.5 miles away). There is a rail station at the end of the trail (Bath).

By Bus - There is no bus service from Honeybourne to Chipping Campden, but there is one from Moreton-in-Marsh Monday to Saturday only. Otherwise, a taxi will be required. Various bus services run from Bath.

From London - Trains from London Paddington station to Moreton-in-Marsh and Honeybourne. A bus/taxi will then be required to Chipping Campden.

Return To The Start - The easiest way to return to the start of the trail, is to take a train from Bath Spa to Moreton-in-Marsh. From there a bus/taxi will be required to Chipping Campden.
Weather Information
To find out more about the weather forecast for your chosen holiday's general location, please see the following websites:
MetCheck - This website allows you to look up detailed weather information for specific locations as far as six months in advance.
Met Office - This website shows regional area forecasts a few days in advance, with a general UK forecast description of up to 30 days in advance.
Mountain Forecast - This website shows what the forecast is like up on specific hills and fells, and offers forecasts a few days in advance.
Running the Cotswold Way with Contours Holidays
Outdoor Journalist Damian Hall enjoys a trail running holiday from Chipping Campden to the Heritage Listed City of Bath, along one of the most quintessentially English trails in the country.
Watch Now